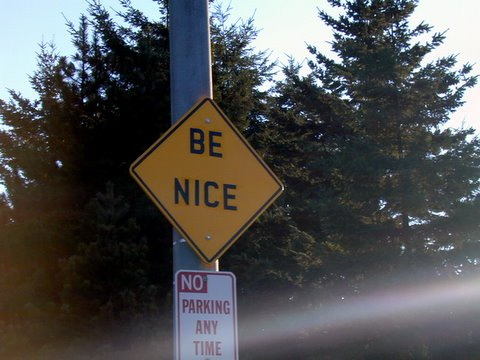 I'm sure that I have mentioned in previous posts that I haven't always had the closest relationship with my sister.  There are many reasons for that which I could go on for days talking about.  Perhaps the reason that stands out the most in my mind is the fact that we are extremely different individuals.  We have always been very different people from as far back as I can remember.  I've always been the one who consistently kept it all together and my sister has always been the one who was repeatedly in trouble with my parents growing up and who always got involved in everything that she wasn't supposed to.
    Obviously, some things have changed now that we are both adults.  Now that we are mothers, our priorities have changed.  However, some things never change and we continue to be different and to have different priorities with regards to parenting, relationships, and life in general.  Despite this, I am committed to forging a better relationship with her and I take advantage of any opportunity that arises for us to interact positively.  Unfortunately, I'm not sure if this is ever going to work because something always stands in the way of us moving forward, namely her boyfriend.
    I've tried to have a good relationship with him over the last seven to eight years that they have been together for the sake of preserving the relationship with my sister.  I understand that he is her partner and that I have to accept him if I want to continue being involved with my sibling.  I'm not going to list all of the various reasons why I have always been leery of him for the sake of respecting my sister's privacy.  I will, however, go on to say that he has never made any kind of an effort to be a part of my family.  We have tried to include him in all of our family functions only to have him behave rudely or to just not attend at all.  At this point, I am just tired of his nonsense.
    Let me give you an example of his behavior when we all get together.  A couple of months ago, I called my sister to let her know that I was going to pass by her house to pick something up that she had of mine.  I was about twenty minutes away from her and I advised her to keep her phone close by because I was going to call her when I arrived in front of her building so that she could come downstairs.  She asked me if I wanted to come up because she was cooking dinner and would love to have us over to eat.  Of course, I willingly accepted and was excited at having yet another opportunity to spend some positive and productive time with her.
    After we arrived, she proceeded to tell me that her boyfriend was at the supermarket grocery shopping with his mother and that he would arrive shortly.  Honestly, I couldn't care less where he was because I was more interested in spending time with my sister and my nephews.  That's exactly what we did, we talked while she was cooking and the boys were playing video games.  Sure enough, he arrived after awhile and greeted everyone.  A few moments later, he proceeds to put his jacket on and tells all of us that his mother dropped her medication in his car and that he had to leave to take it to her.  I didn't see any problem with that and thought nothing of it as he left the apartment again.
    The thing is that he never came back.  We ended up spending the whole evening together and we left her house shortly after midnight.  Before we left, I told my sister that I felt that her boyfriend had come up with an excuse for leaving because he was unhappy that we were at the house visiting when he arrived from grocery shopping.  She promptly responded that that was not the case and that his mother is just a pest who is constantly calling him to ask him for help.  I really didn't push the issue because I didn't want to get into it with her so I thanked her for her hospitality and left.
    The following morning was my birthday and my sister called me to congratulate me.  During the conversation she put her boyfriend on the phone so he could apologize for having been rude the night before and not returned to eat dinner with us.  I just kind of listened and told him it was fine because I didn't even feel that it was worth my time and energy to disagree with him.  He knows that I will continue to try to be cordial to him because I want to have a good relationship with my sister so it is almost as if he is the one who is holding all of the cards.
    I should probably add that he engages in this kind of behavior whenever we get together for any family event.  He always comes up with an excuse as to why he cannot attend and ends up arriving at the end of the gathering just to pick up my sister and my nephews.  Most recently, the excuse that they have come up with for his absences is that he is a different religion than we are and doesn't celebrate birthdays or any other holidays, religious or otherwise.  To me, this is a lame excuse because he only seems to use this "religion card" when it comes to avoiding celebrations with our family.  It seems that he has no problems attending celebrations or recognizing holidays when it comes to getting together with his side of the family.
    Sadly, I regret that he seems to wield a lot of influence over my sister and it seems to be affecting the amount of time that she spends with us.  Most recently, she sent my sons and my brother's sons presents through the mail.  I asked her why she was having their presents sent through the mail when she could just come over and deliver them to the kids in person.  Her response was that she ordered them online and that she wanted the kids to get them and enjoy them as quickly as possible.  Unfortunately, I think she did this to avoid coming around because he is succeeding in pulling her further and further away from her family. 
    I'm not really sure what to do at this point.  My gut tells me to just keep trying to maintain communication open with my sister despite the fact this is not being reciprocated by her.  I know for a fact that I will always be on the losing end of this situation because having her boyfriend in her life is more important than anything else in the world to her.  It's just very difficult to constantly have to humble myself around him in order to keep the peace when I know that he has no interest in putting any effort in on his part.  I love my husband and I understand the whole concept of "standing by your man" but not when the man is deliberately trying to separate you from your loved ones due to his issues with being controlling and manipulative.  I'm not sure how long I will be able to continue being nice…
© 2011, Tough Cookie Mommy. All rights reserved.