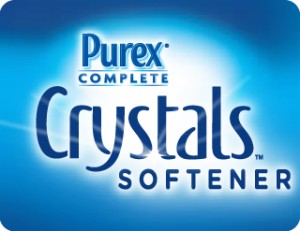 As a Working Mom, it is extremely important for me to use products in my home that will get me the most for my money while meeting the needs of my family.  This is especially true when I am choosing fabric softener for my laundry.  I am always on the lookout for softeners that not only will make my family's clothes feel soft but also make them smell great even after they come out of the dryer.  Unfortunately, most other fabric softeners do not live up to my expectations and I was beginning to lose hope that I would never find one that would make my clothes smell fresh and clean even after sitting in the drawer for a couple of days.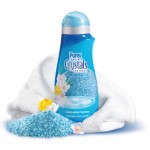 Luckily, Purex has created a product that surpasses all of my expectations when it comes to the kind of fabric softener that I want to use on my family's clothes.  New Purex Complete Crystals Softener is 92% natural and is a purer way to get laundry fresh and clean for weeks after you wash and dry them.  It is not oil-based like other liquid fabric softeners and it infuses the fibers in  your clothing with long lasting freshness that you can count on for weeks instead of just for a few days.

The clean fresh scent of the crystals was the first thing that flooded my senses as soon as I opened the bottle.  I have never smelled a fabric softener that has such a wonderful scent.   The product's unique crystal form took me by surprise since I have always used liquid fabric softeners.  I quickly learned that therein lies the secret and effectiveness of this softener because it doesn't work by simply coating fabrics in oil but rather penetrates deep into the fabric to guarantee long term results.  All I had to do was add the crystals directly to my laundry at the beginning of the wash cycle.  It was wonderful to not have to worry about messy softener residue in my washing machine, waiting for the rinse cycle, or stains from spilled liquid fabric softener.  The crystals simply dissolved in the wash and caused my clothes to smell heavenly.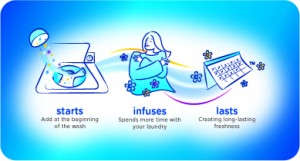 Purex Complete Crystals Softener is safe for all of your fabrics.  This is extremely important to me as a mother who will only use the safest products around my children or any clothing that comes in contact with their sensitive skins.
*It is the first major fabric softener that is 100% safe to use on Children's sleepwear as it does not impair their flame retardant qualities.
*Unlike traditional fabric softeners, that can interfere with the absorbency of fabrics by leaving behind oily residue, this softenre will ensure that your towels stay fresh and absorbent.
*It keeps your white clothing from yellowing and graying like traditional fabric softeners.
*Retains your athletic clothing's ability to draw sweat away from your body.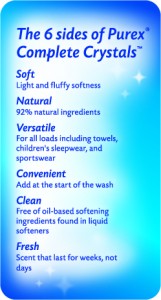 I was very happy with this softener because it did everything it promised it would do.  My clothes smelled fresh and clean for days after being washed and felt soft to the touch.  This product certainly met all of my expectations and requirements when it comes to a fabric softener.  The crystals come in three fragances, Fresh Spring Waters, Lavender Blossom, and Tropical Splash.  I personally used Fresh Spring Waters and it smelled fresh and clean.  The retail price is also very reasonable for a family on a budget as it is $3.99 to $5.99 depending on the retailer and can be found at food, drug, and mass retailers nationwide.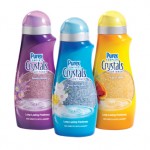 Giveaway: 
 Purex would like to offer 3 loyal readers of Tough Cookie Mommy a chance to win a coupon for their own full sized bottle of Purex Complete Crystals Softener! Three Lucky  winners will be chosen through Random.org.
Mandatory Entry:  Please visit Purex.com and tell us which Purex Complete Crystals Softener scent you would like to sample by leaving a comment below.
FOR EXTRA ENTRIES:  you can do any or all of the following. Please be sure to leave a separate comment for each that you have done. Extra entries are optional.
– Subscribe to Tough Cookie Mommy and/or Connect via Google Friend Connect. Both options are found on the right side bar.
– "Like" Tough Cookie Mommy on Facebook, www.Facebook.com/toughcookiemommy.
– Follow Tough Cookie Mommy on Twitter, www.Twitter.com/toughcookiemom  and tweet about this review/giveaway. Be sure to include @toughcookiemom in the tweet so I can see it too. This is limited to three tweets per day.
– Use any or all of the social networking buttons found at the bottom of this post to share this review/giveaway with others on Facebook, Stumble Upon and/or Digg. Be sure to tell me what you did and please provide a name and/or URL so I can verify.
This giveaways is open to US residents only and will end on March 6, 2011 at 11:59 PM (EST). The winner will be chosen at random using a random number generator from all eligible entries. The winner will be contacted via e-mail and will have three days to reply with a name, and a mailing address (no PO Box) or a new winner will be chosen.
Product Review/Giveaway disclosure: I received one or more of the products mentioned above to giveaway to one of my readers in exchange for my opinion and for the purpose of writing this post. I only recommend products or services I use personally and I believe will be "family friendly." I am disclosing this in accordance with the Federal Trade Commissions 16 CFR, Part 255 "Guides Concerning the Use of Endorsements and Testimonials in Advertising.
© 2011 – 2013, Tough Cookie Mommy. All rights reserved.