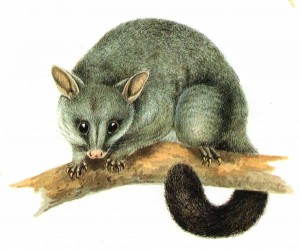 As many of you know, the East Coast has been pummeled by arctic weather conditions this Winter.  The cold weather has affected many things such as people's moods, driving conditions, power outages, frozen pipes, etc.  It seems that, everywhere you turn, somebody is complaining about the weather.  We are all so wrapped up in feeling sorry for ourselves because we hate having to commute to work in this cold and we have cabin fever since it is prudent to stay indoors on the weekend due to the snow.  It wasn't until today that I started to realize the effect that this chill is having on some our favorite friends, pets and animals.
    It is actually quite fitting that this post be written on Groundhog Day since this is a day that depends on an animal to determine whether Winter will be six weeks longer than usual or whether Spring will be upon us early.  News reports today indicated that "Phil" the Groundhog did not see his shadow so we can expect Winter to end quickly and look forward to getting some Spring weather soon.  I was so overcome with joy at receiving these news that tears welled at the corners of my eyes.  I'm sure I am not the only one who is well past the point of being sick and tired of all the cold.
    As I thought about the Groundhog during the day, I started to wonder how he feels about the fact that he is pulled out of his burrow every February 2nd, by the scruff of his neck or fur, and paraded around a bunch of weird strangers in below freezing temperatures.  I'm no expert on Groundhogs but, don't they hibernate during the Winter?  If so, it is even worse to think that their hibernation is interrupted by a ridiculous tradition that has no scientific basis whatsoever.  Maybe, one of these days, Phil will get fed up of being disturbed in this way and will turn on the very people who invaded his slumber.  That is something that I would definitely pay to see, a Groundhog attack.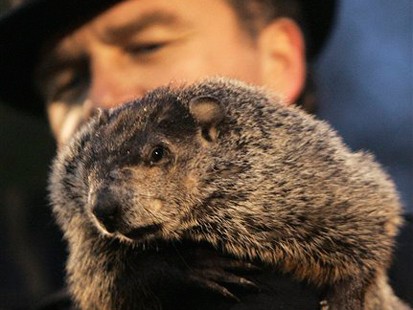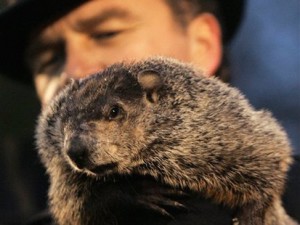 In my neighborhood, the cold is wreaking havoc on our resident creatures too.  We live alongside a bird habitat and sanctuary and are accustomed to seeing families of skunks and opposums wandering around the neighborhood at all hours of the night.  Due to the inclement weather, sanitation is backed up again on garbage removal and, as a result, there are bins of garbage on the curb around the neighborhood.  This afternoon, my brother came home from work to discover that an opposum was hiding in one of our garbage cans.
    It is unclear whether he was in there eating garbage and hid under the bag to seek refuge from the freezing rain or whether he was hoping that no humans would notice that he was there with all the shoveling and snow/ice removal that was taking place.  In any case, we weren't about to leave him there to die which is a dangerous possibility in these below freezing temperatures.  My brother contacted the local animal control and they informed him that they do not come out to remove animals unless they are rabid or attacking so we were on our own.
    Eventually, after much tilting and tipping of the garbage can, our furry friend was able to roll out and waddle his way down the driveway to his home somewhere in my backyard.  Luckily he was too tired and cold to show us how annoyed he really was that he ended up in that predicament in the first place.  He will probably use a little more caution when engaging in his midnight snacking in the future.  I'm sure he did not have a nice experience freezing his whiskers off all day until somebody found him.
    It is painfully obvious that everyone is already fed up with all of this weather from two legged humans to four legged critters.  Thankfully, we are all going through this frustrating weather together and are there to help each other out while maintaining our sense of humor.  Remember how dangerous this weather is to animals as well as people and keep your pets protected from the cold if you take them outside.  After all, we wouldn't want the Groundhog and his friends to become the stars of the next episode of, "When Animals Attack…"
© 2011, Tough Cookie Mommy. All rights reserved.