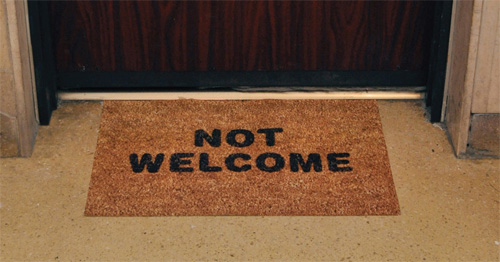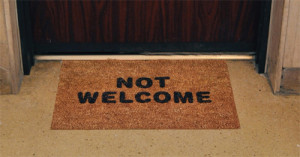 This May, my older son will be making his First Communion.  It is a very important rite of passage and we plan on hosting a celebration to honor him on his special day.  As with any special event, there are a lot of preparations that have to take place in order to guarantee that the day will go off without a hitch.  Unfortunately, that includes devising a guestlist of people that we would like to have with us as we celebrate this momentous occasion.  Normally, it would be very easy for me to come up with the names of the people that I would want to attend, however, I am finding that there are quite a few people that I just want to exclude and not even be bothered with.
    Let's begin with some of my extended family members…It seems that lately there have been quite a few of them who have been "lost in the sauce" so to speak.  Believe me when I tell you that I most certainly am not that family member who needs a weekly phone call and needs attention all the time.  I fully understand that people have their own lives and that we are all busy with our respective responsibilities.  Is it too much to ask, though, to expect a phone call or even a visit on such holidays as Christmas or Thanksgiving?  One family member has taken to texting us to deliver well wishes on those special days.  I find this so offensive that I commented to said family member last Christmas, via text, that family doesn't text each other on the holidays.  Forgive me if I don't want this person there on my son's special day.
    Another family member of mine doesn't get in contact with me all year or even call to see how my children are doing.  She does, however, remember to call me a couple of weeks before Christmas every year to give me a detailed list of the presents that her children will be wanting to receive.  If that is not having a lot of nerve, I don't know what is.  It just seems that certain family members and friends who rarely interact with us throughout the year always seem to come out of the woodwork when it comes to being part of celebrations that include free food and drinks.  We were raised to share whatever we had with our loved ones but it is hard to overlook when they are blatantly offensive and inconsiderate and then expect to stroll in and out of the family at their convenience.
    Unfortunately, there are a few friends whom I feel this way about also.  As I get older, I am realizing that some friendships are not forever and, just like in every relationship romantic or otherwise, sometimes people grow apart.  I'm stuck between how things used to be around these people and the fact that we don't have a lot in common anymore.  This definitely causes me inner conflict because I feel like I should make decisions that make me happy at this point and if not being around certain people makes me happy well, I'm not going to make any excuses for it.  Nobody else seems to be making excuses for their poor behavior so why should I be held to a higher standard?
    I think a lot of this reflection has to do with the fact that my inner filters are decreasing with age.  No longer do I feel the need to explain myself as in previous years or to hold the feelings and happiness of others above my own.  I'm finding myself to be a lot more selective about the people that I surround myself with whether they be family or friends.  Long gone are the days of tolerating nonsense in order to not offend someone while at the same time offending myself.  Additionally, I feel like I don't want any hypocrites around my children who really don't demonstrate any interest in how they are doing the rest of the time. 
    So, with a guilt free conscience I will be trimming down the guestlist for my son's Communion.  Making that decision and actually posting about it here has been very cathartic.  I'm sure some people will be very upset that they do not receive an invitation but I don't care.  At the end of the day, it has everything to do with maintaining positive energy around myself and my children and nothing to do with worrying about how my decisions will be perceived by others.  After all, what is the worst thing that could happen, I won't get that yearly text message every year wishing me a Merry Christmas?
© 2011, Tough Cookie Mommy. All rights reserved.