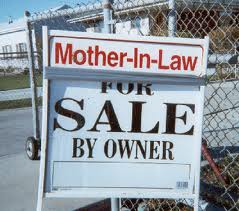 This week, my wonderful Mother In Law pulled another one of her fast ones.  Those of you who have been following this blog for awhile know all too well about my MIL's shenanigans.  In case you just recently started following, you can read about the wonderful Thanksgiving visit that she bestowed upon us last year.  You see, she has a way of turning any joyous occasion into sheer torture.
    Just to give you a little background, my MIL does not like me at all.  As far as she is concerned, I am not worthy to be married to her son because I am not strict Born Again Christian like she is.  Now, let me be crystal clear, I have nothing against Born Again Christians whatsoever.  As a matter of fact, that is the religion that my husband was raised in and, although he is non-practicing, he still lists this as his religion on all legal documents. 
    My MIL, on the other hand, looks down upon anyone who does not adhere word for word to everything that is written in the Bible.  The fact that I am extremely liberal, have three tattoos, a nose piercing, and am a staunch feminist probably does not help my case much.  Through the years, our relationship has been strained at best. That might be an understatement.  It is probably more accurate to say that she treats me like the Anti-Christ.
    Although I am not happy to have such a terrible relationshipe with my MIL, I have accepted that this is the way that it is always going to be.  It seems fitting that I quote from the Serenity Prayer to describe to you all how I have come to deal with this tumultuous relationship.
"God grant me the serenity
to accept the things I cannot change;
courage to change the things I can;
and wisdom to know the difference…"
    Obviously, my MIL is never going to change and, I suppose, neither will I.  I have resigned myself to understanding the chilly nature of our relationship and I have moved on from it.  Unfortunately, my MIL continues to do things to get under my skin whenever she can.  She tries to arrange marriages with women from her church and my husband at least once per year despite the fact that Hubby and I have been married for eleven years. 
    This past Spring, as a matter of fact, she gave my husband's E-mail to a woman from her congregation and the woman proceeded to send him messages telling him that his mother had told her all about how great he was.  When I confronted my MIL about what she did, she proceeded to tell me not to bother her "Sister in Christ" and that the whole thing was my fault for not following Christ properly. 
    The most hurtful thing that has come out of this whole situation for me has been the fact that she has never been a grandmother to my children.  The only gift that she has ever given either one of my children has been a Bible that she gave me for my older son when I was pregnant with him.  Not that gifts matter but she has not done one thoughtful thing for my boys including not sending them cards for their birthdays or holidays.  Actually, now that I think about it, she has never called my younger son for his birthday.
    Despite the fact that she continues to disrespect and disregard me, she has never had any boundaries when it comes to calling to ask for money or for financial assistance.  Last weekend, she called my husband on his cell phone to ask him to pay for the souvenirs for his younger sister's Sweet Sixteen party which is in two weeks.  My husband told her "no" and proceeded to explain to her that it was ironic that she remembered to call him for money when she had failed to call her grandson the week before to wish him a happy birthday.  Her response was that she had forgotten his birthday because she has been so busy running around preparing for her daughter's birthday party.  That was just the excuse this year as she has a different excuse every year when she forgets to call him.
    I would be lying if I didn't say that I haven't become extremely bitter and jaded about this whole situation.  Obviously, I want to have good relationships with all close family members.  I have always made sure that I didn't come in between the relationship that my husband has with her because that just wouldn't be fair on my part.  Unfortunately for her, she alienated my husband from her way before I ever came into the picture.  If anything, it is I that continues to encourage him to reach out to her sometimes because I am a mother and I feel sorry for her that she has caused her only son to not want anything to do with her.
    Everyone says that I shouldn't worry about her at all and that my children receive more than enough love from the grandparents and family that are in their lives regularly.  I'm not sure that I agree that my sons are not losing out by not having her in their lives.  Family is and always has been very important to me.  I feel that she is robbing my boys of having a connection with that entire branch of the family.  She is definitely losing out by not having my boys in her life but I'm not concerned about her because she is an adult and she has made her decisions and chosen her sides.  My boys, on the other hand, deserve to have her in their lives as a grandmother.  It is so sad that I see this and she doesn't. 
    Regardless of what she thinks, her and I both pray to the same God.  As far as I'm concerned, my God would not condone her using His name to excuse her poor behavior.  Maybe she should spend a little more time reading her Bible and memorize the Golden Rule:  "Do unto others as you would have them do unto you."
© 2011, Tough Cookie Mommy. All rights reserved.