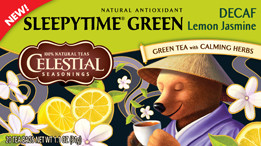 Lately it has been harder and harder for me to fall asleep at night.  As many of you know, this month has been a trying one for many reasons including the loss of a beloved friend and family member, parent teacher conferences at my school, and all of the other roles and responsibilities that I juggle on a daily basis.  It's no surprise that I often have a lot on my mind when it is time to go to sleep.  Feeling restless and overwhelmed are not the best ingredients to having a good night's sleep.  I have never had any interest whatsoever in using prescription sleep aids to help me sleep so I jumped at the opportunity to review and try Celestial Seasonings Sleepytime Green Lemon Jasmine tea.
The tea comes in a light green box with a picture of the Sleepytime Bear dressed in Asian robes smelling a fragrant cup of tea.  Each box contains 20 tea bags that are "Caffeine free" ,  "Gluten free", and have Kosher certification.  Those of you who watch your caloric intake will appreciate the fact that each tea bag contains 0% calories, fat, sodium, carbohydrates, and sugars.  Along with the fact that it is supposed to help calm you and help you fall asleep, I liked the fact that it was a versatile enough product to fit into the dietary needs of almost anyone.
Here are the ingredients as they are listed on the box:  Chamomile, Decaffeinated Green Tea, Spearmint, West Indian Lemongrass, Natural Lemon and Jasmine flavors, Tilia Flowers, Hawthorn, Orange Blossoms, and Rosebuds.  You can actually smell the Green Tea and Spearmint without even opening the wrapping around the box.  Before I even opened the box, I could smell these calming scents and they beckoned me to open it and drink in its wonderful flavors.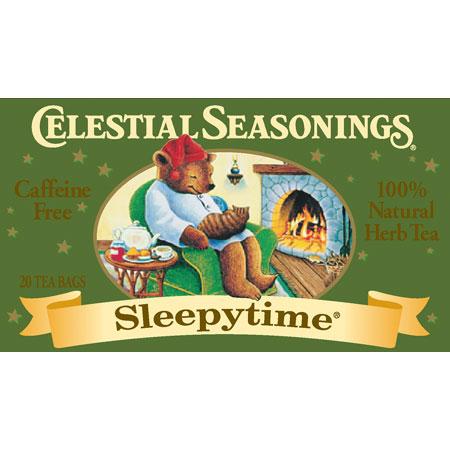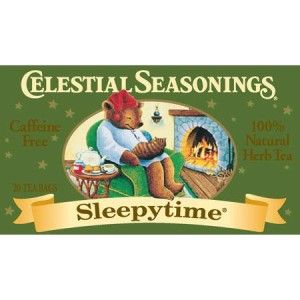 I decided to wait until the boys went to sleep to prepare my cup of tea.  As I prepared for bed I anticipated drinking the Sleepytime Green Lemon Jasmine tea and finally being able to truly relax for the first time this month.  The first thing that tickled my senses was the minty aroma that rose from my mug as I dropped the teabag into the hot water.  My favorite teas to drink are ones that contain Spearmint because I love this mint flavor and just the scent of the tea simmering was enough to make me eagerly anticipate how good this tea was going to taste.
As I sat on the couch sipping my cup of Sleepytime Green Lemon Jasmine Tea, the combination of the aroma and taste was definitely soothing and calming.  It was fabulous to have some time to myself and to be able to enjoy such a tasty cup of tea alone and without any interruptions.  After about an hour, I definitely started to feel calm and sleepy and it felt great to be able to accomplish finally feeling this way from drinking something so natural.  I finished my cup of tea and gave in to the calm and sleepy feeling.  I slept all night and woke up the next morning feeling a little more refreshed than I have felt this entire month.
I think the wonderful thing about Celestial Seasonings' various teas is that, besides their wonderful aromas and tastes, they create opportunities for you to relax and to take some time out for yourself.  There is nothing better than sitting down and having a hot cup of tea, especially in this cold weather that we have been having on the East Coast this Winter.  Having these moments of peace and solitude are a must for maintaining inner balance and being good to yourself.  I will definitely be making Sleepytime Green Lemon Jasmine Tea a part of my daily evening ritual.  As new flavors come out, I look forward to adding them to my arsenal of calm and soothing Celestial Seasonings teas.
Celestial Seasonings and Sleepytime Bear would like me to share my new bedtime routine and Sleepytime Green Lemon Jasmine Tea with one of my Tough Cookie Mommy Readers and have graciously provided me with a gift package giveaway that contains the following items:
•       Decaf Sleepytime Lemon Jasmine Green Tea
•       Celestial Seasonings Tin Tea caddy
•       Celestial Seasonings magnet
•       Celestial Seasonings lip balm
•       Honey sticks
*characters/brands on items may vary
Mandatory Entry:  Please visit Celestial Seasonings.com and tell us which tea flavor you would like to sample by leaving a comment below.FOR EXTRA ENTRIES
:  you can do any or all of the following. Please be sure to leave a
separate
comment for each that you have done.
Extra entries are optional.
– Subscribe to Tough Cookie Mommy and/or Connect via Google Friend Connect. Both options are found on the right side bar.
-"Like" Sleepy Time Bear on Facebook http://www.Facebook.com/SleepyTimeBearTea
– "Like" Tough Cookie Mommy on Facebook, www.Facebook.com/toughcookiemommy.
-Follow Sleepytime Bear on Twitter, http://www.Twitter.com/Sleepytimebear
-Follow Celestial Tea on Twitter, http://www.Twitter.com/CelestialTea
– Follow Tough Cookie Mommy on Twitter, www.Twitter.com/toughcookiemom  and tweet about this review/giveaway. Be sure to include @toughcookiemom in the tweet so I can see it too. This is limited to three tweets per day.
– Use any or all of the social networking buttons found at the bottom of this post to share this review/giveaway with others on Facebook, Stumble Upon and/or Digg. Be sure to tell me what you did and please provide a name and/or URL so I can verify.
This giveaways is open to US residents only and will end on March 9, 2011 at 11:59 PM (EST). The winner will be chosen at random using a random number generator from all eligible entries. The winner will be contacted via e-mail and will have three days to reply with a name, and a mailing address (no PO Box) or a new winner will be chosen.
Product Review/Giveaway disclosure: I received one or more of the products mentioned above to giveaway to one of my readers in exchange for my opinion and for the purpose of writing this post. I only recommend products or services I use personally and I believe will be "family friendly." I am disclosing this in accordance with the Federal Trade Commissions 16 CFR, Part 255 "Guides Concerning the Use of Endorsements and Testimonials in Advertising.
© 2011 – 2013, Tough Cookie Mommy. All rights reserved.