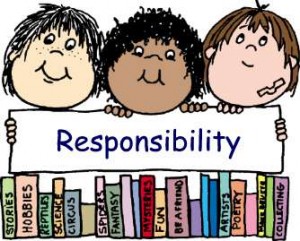 Lately I have been noticing that a lot of my students have been arriving to school late in the morning or just being absent from school more often than they regularly are.  Upon further investigation and discussion with them when they do come to school, I have become aware of what I consider to be a growing problem.  It seems that a lot of my students arrive late because they have to take their younger siblings to school in the morning.  Additionally, sometimes they are absent because they have to stay home and take care of their younger brothers and sisters while their parents run errands, attend doctor's appointments, or go to work.
    I completely understand that life has a way of creating unexpected situations and that emergencies and extenuating circumstances sometimes warrant extreme measures.  However, from a parent's perspective, this is really irresponsible behavior.  I'm totally against imposing the responsibility of caring for younger siblings on older kids.  These older kids are not the parents of their brothers or sisters and it is unfair that they be strapped down with that kind of responsibility.  If parents cannot assume responsibility for more than one child, they should not have anymore children.  I think that it is extremely selfish to have more kids if you are going to expect your older ones to help you care for them.
    Now, just to clarify, I'm not saying that your older children should not help you with your younger children from time to time.  For example, I would sometimes ask my older son to pass me a diaper when I was changing my younger son.  I don't consider that a lot to have asked him and I still ask him to help his brother with small things like hanging up their uniforms and their jackets when they get home from school.  That is as far as it would ever go because I would never ask my oldest to babysit my youngest or to take him to school in the morning.
    Maybe I am being too harsh.  After all, I have always had my husband to help me with my boys when it came to caring for them, providing for them, and taking them back and forth to school.  My sister, on the other hand, is a single parent and she has had to make some tough decisions regarding how my nephews get to school in the morning.  She has had to rely on my older nephew to take my younger nephew to school because she has to be at work by a certain time.  Now, don't get me wrong, I feel for her having to juggle a full time job and caring and providing for two boys without any kind of help, financial or otherwise, from their father. 
     At the end of the day, though, these are things that I feel people should think about before they have kids.  Why should children end up paying the price when parents are faced with life's unexpected bumps in the road?  I'm sure that this type of situation is more prevalent in low income inner city neighborhoods where children are living in single parent homes and parents are struggling to make ends meet.  I'm really not trying to be judgmental or to make anyone feel badly but I am definitely trying to draw attention to the fact that a lot of people become parents without being realistic about what it takes to raise children in today's society.
    Those of you who are parents know that one of the things that becomes painfully evident when you have a child is the tremendous cost of raising one.  To have children when you do not have the financial means to care for them is just unacceptable.  I consider being able to provide childcare along with all of the other necessities part of the responsibilities of a parent so forcing that part of parenting on your older children when it comes to caring for your younger children means that you are shirking your duties. 
    As a teacher, I cannot even begin to describe the profound effect that this family situation has on a child's academics.  First and foremost, it affects their attendance because they are often late due to taking younger siblings to school and also absent often.  Secondly, they miss out on a lot of instructional time due to their attendance which causes them to fall behind on assignments and classwork.  Lastly, it causes them to become resentful at having so much adult responsibility thrust upon them and makes them act out in school and mistreat their younger brothers and sisters sometimes.
    I don't have all the answers as to how we can fix some of these problems.  Maybe the problem lies in the fact that a lot of people are having children that are not financially or emotionally equipped to do so.  Another issue might be the fact that we have a lot of single parent families in this country and they are not receiving financial support from the other parent which causes them to have to expect their children to assume a lot more responsibility in order to help out.  In any case, it seems to me that the children are the ones who are losing out in all of this.  Where do we draw the line as parents, between teaching our children to be independent and just expecting too much too soon from them?  I'm thinking that, when you can't tell the difference between who the parent is and who the kid is, it's about time to draw that line…
© 2011, Tough Cookie Mommy. All rights reserved.