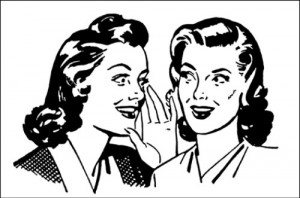 What do you think your friends say to each other when you are not around?  I'm sure most of us would like to think that our friends have nothing but wonderful things to say about us when we are not within earshot.  Unfortunately, people are only human and it is quite possible that they feel more comfortable saying some of the things that they feel about us to others instead of to our faces.  Don't put that face on, you know that the truth sometimes hurts.  Also, there are just certain things that you keep to yourself, even in the closest of friendships, for fear of hurting the other person's feelings.  No matter how open minded you are, nobody likes to be criticized especially by those we care about the most.
    As I pondered over my original question I thought about what my friends would say about me to each other if I wasn't around.  The first thing that crossed my mind is that these would have to be negative things because there is no difficulty in telling someone how great they are to them directly.  Obviously, this made this whole concept extremely difficult for me to grasp because it is inconceivable that anyone would have anything but wonderful things to say about me.  Okay, so maybe I've been sipping on that Kool-aid because we all know that nobody is perfect, even those of us who come close to perfection.
    I am the kind of person who will always tell you exactly how I feel, even if my thoughts or comments are not very well received.  Believe me, this has gotten me into my share of trouble over the years with many of my interpersonal relationships.  Apparently, people don't always want to really know how you feel about them or about their lives.  This has never stopped me from voicing my opinions.  I've always said, "You might not always appreciate what I have to say but at least you will always know where you stand with me."  Honestly, who wants to be surrounded by friends who will only tell you what you want and need to hear all of the time?   Unfortunately, since some people don't always appreciate my candor, I'm sure that this would be one of the things that they would say about me when I am not around, that I am too outspoken. 
    The next "problem" that I have is that I always know exactly what I want, how I want it done, and when I want it done.  As a result of this, I may come across as being a little authoritative some of the time.  Once again, it's not that I think that I am the boss or that I am in charge, it's just that I don't deal very well with uncertainty and procrastination.  I'm very much a go getter and I have very little patience for people who waste time figuring out what they want and waste even more time figuring out how to get it.  So when I see things lagging or when projects aren't making enough progress in the right direction, I motivate albeit in a not so gentle fashion.
    Besides these two complaints, I would like to think that my friends would also say that I am a loyal friend who can be counted on to be there during good times and bad times.  Hopefully, they will always remember all of the times that I was on the other end of the phone line, at all hours of the night, to just listen.  As long as they still have some good things to say about me behind my back I can deal with any of the previous criticisms that I just mentioned.  You have to take the good with the bad in every situation.
    I think we all have to be realistic about human nature and realize that everyone talks about someone sometimes.  My personal philosophy  is that whatever I am saying about you is something I already told you to your face or will tell you to your face eventually. What do your friends say about you when you are not around?
© 2011, Tough Cookie Mommy. All rights reserved.