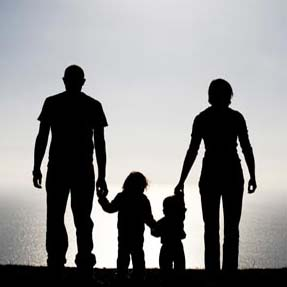 This evening, Hubby and I disagreed upon a parenting moment.  We established the rule, a long time ago, that our boys would not be allowed to play video games on school nights.  Now, correct me if I'm wrong, but isn't Sunday considered a school night since kids have to go to school on Monday morning?  This is what I have always thought but my husband deviated from the game plan tonight.  You see, he played video games all afternoon in order to unwind before going to work this evening so he took up all of the kids' time to play during the day.
    I'm not sure if he felt guilty about the fact that the kids did not get to play or if he was just being stubborn but, all of a sudden I see him setting up the boys to play the Playstation 3 at 7:00 p.m.  Immediately, I put my foot down and stated that they boys were not allowed to play because they have school tomorrow and that the rule stands that there are no video games on school nights.  My husband and I immediately began speaking in Spanish to discuss this issue because that is what we do when we want to talk about something and we don't want the kids to know what we are talking about.
    I explained to Hubby that I have work to do such as preparing my grades for report cards and writing my lesson plans for the week.  He responded that it was Sunday which is still part of the weekend and that he thought it would be okay if the boys played video games until 8:00 p.m.  Obviously, we did not agree so I flexed my Mommy muscles and told the boys that there would be no video games tonight since there is school tomorrow.  Luckily, Hubby was supportive despite the fact that he disagreed with me because he knew that he was leaving for work soon and that it was best to follow our usual Sunday evening routine.
    I'm not sure if this ever happens to you guys but, why do husbands always throw monkey wrenches into already established routines and schedules?  I'm not sure if this happens because men are more spontaneous than women are or if they just like being the fun parents while mothers are the "enforcers."  I would love to let the boys just play with their toys and video games and let them have fun all of the time.  This is not realistic and I know that, if I were to allow this, I would be the one who would end up paying for it in the long-run when they couldn't get up for school the next day or if they couldn't perform at school because they were too tired.
    Sometimes, being the Mom is not the role of the fun parent.  We are the ones who have to make the tough decisions and lay down the unpopular rules when it comes to doing what is good for our children.  In my house, that usually means limiting video game time, putting an end to wrestling and horseplay that is heading towards an injury, and turning off sports after hours and hours of sports viewing pleasure. 
    It's not always easy to be the only female in an all male household and I suspect that it is going to get harder and harder as my sons get older.  Even if it makes me a little unpopular around here, I will have to keep putting my foot down when it comes to curtailing some of the testerone laden activities in this house.  It's a good thing that Hubby and I are on the same page in terms of presenting a united parenting front to our boys, even if we don't always agree on each and every parenting moment or decision.
© 2011, Tough Cookie Mommy. All rights reserved.