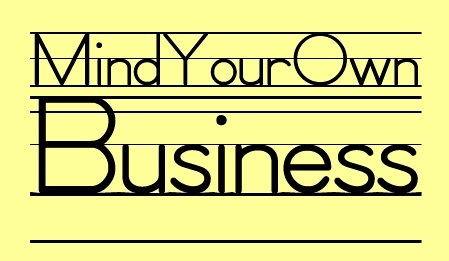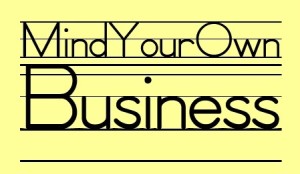 I have been making a conscious effort lately to mind my own business. Normally, this is not such an easy thing for me to do because I like to help everyone and sometimes that includes me getting involved in matters that really don't concern me at all. You guys know how it is, a family member or friend calls you to tell you what is going on with another family member or friend. Before you know it, you get completely sucked into the problem and end up getting blamed for something at some point.
    This always happens to me, I always get pulled into things without really wanting to be involved in the first place.  I'm not sure what it is about me that causes people to tell me all of their personal business.  There must be something in my face or character that beckons others to divulge all of the personal details of their lives.  Normally, I don't mind listening unless I feel that the other person has ulterior motives for confiding in me.  However, it is getting exhausting going through these same kinds of experiences time after time.
    Whenever something is going on with someone I care about, I receive a phone call or some kind of communication explaining the whole situation to me.  Most of the time, I try to stay out of the whole thing by keeping my mouth shut or at least attempting to keep my mouth shut.  Unfortunately, this does not always work out for me because someone always has to ask me how I feel about something or another person gets mad because they find out that I knew about the problem and I didn't do anything to help them solve it.  You can't win if you get involved and you can't win if you don't get involved.
    I have found this to be especially true when it comes to family members.  Believe me, I could care less what my family members are doing in their personal lives as long as they are happy and healthy.  As we all know, family has no concept of discretion or privacy and, more often than not, we all receive tidbits of family information through the grapevine that we would have rathered not heard about at all.  It must be that I am getting older and more reflective because it is just now that I am realizing that it is better for my mental health if I stay as far away from these situations as possible.
    In the past, I would be the first one on the front lines trying to lend moral support or just making myself available to talk to if necessary.  I have had to learn the hard way that people are generally happy with the way that their lives are.  Even those who are constantly complaining about how much they hate their lives will turn on you in a minute the moment you try to give them some advice about living their lives differently or about following a different path.  This is especially true when it comes to people's relationships, no matter how much family members or friends complain to you about their spouses or partners, they don't really want to hear your opinion about what you think the problems are in their relationships.
    This is sometimes an inner conflict that I struggle with which is my need to be forthcoming and true to myself and the needs of others to remain blissful in their ignorance and denial.  Allow me a corny moment as I quote the Colonel, played by Jack Nicholson, in the movie A Few Good Men…
"You can't handle the truth!"
    Well, some can but many more others cannot.  So my advice to myself, and to all of you, is not to get involved.  Most of the time it is really not worth all of the effort and aggravation that comes from you jumping from the frying pan into the fire.  People are going to do whatever they want to do regardless of what you think or what you advise them to do.  Friends and lovers will still be friends and lovers after a betrayal.  Family members will still gravitate towards each other after a conflict because blood is thicker than water.  Money, or lack thereof, will still make people do all kinds of crazy things.  We can't control any of these things so why not focus on the things we do have control over, like ourselves?
© 2011, Tough Cookie Mommy. All rights reserved.