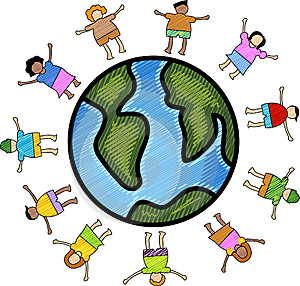 A few days ago, I was speaking to someone on Twitter who shared with me that a close friend of hers had referred to her daughter using a racial epitaph.  Her daughter is biracial and her friend made the comment in jest and thought it was really funny and witty.  I would rather not repeat the comment that she made, however, I think that it is important that you see exactly what she said so you can understand why it is so shocking.  This "friend" actually referred to her daughter as a "nigglet."  I'm sure you are as appalled as I was when I first read that she had the nerve to say this.
    I can connect to this, unfortunately.  My husband has brown skin as he is of Cuban and Jamaican descent.  My children are light skinned and have light eyes like me.  We are raising our boys not to see skin color but it is really hard when people in society are so ignorant and biased.  There have been many times when strangers have made comments about how surprised they were that my husband was my sons' father.  Some of the comments that they have made have included:
"Is that his father?"
"How is he so light?"
    I find it more offensive that people feel that they have carte blanche to say whatever they want without any regard for propriety or political correctness.  Believe it or not, this bothers me even more than the fact that they might harbor some deep feelings of discrimination or bias.  It's almost as if they think that they are entitled to share their thoughts and opinions despite the fact that they were not warranted whatsoever. 
    Lately, I have noticed how difficult it has become to raise my children without race or color lines.  Although we don't place emphasis on race or differences in our home, it is becoming painfully obvious that the outside world does nothing but highlight these issues.  Most of the things that they are learning about race come from their interactions and exposures at school right now.  I know that they are being influenced by others when they question my husband about why his skin is brown and why we don't all have the same skin color.  This could only come from the outside because we have always acted as if we don't see color at all in this house.
    The sad part is that parents are passing their negative ideas about race and culture down to their children.  These cycles of ignorance are being passed down from generation to generation and, as a result, they are being perpetuated.  Believe me, your children are listening when you speak and they will also repeat what they have heard you say to others.  The sad part is that they will go to school and share your views with other children, thereby spreading either your words of tolerance or your words of bigotry.
    As a member of a multicultural and biracial family, I can tell you that unless you have something positive to say, keep your negativity and your comments to yourself.  It is not okay for you to make jokes about race that might be hurtful or offensive just because we are friends.  Unless you have a degree in genetics, I don't need you to explain to me that it's amazing how light skinned my children are when their father is so "dark."  If you are going to make discriminatory statements don't do it in front of your children so they can spout that hate around other children.  Nobody needs your approval or your validation.
    This advice probably doesn't apply to most of you who know exactly what to say and when to say it.  A lot of you are parents and I know you all strive to teach your children how to be tolerant of others and to celebrate the differences in all people.  They will definitely follow these examples if you model for them how to be this kind of person.  The way you model is by setting good examples and by maintaining good communication with them.  Talk to your kids about why and how they are different from others and emphasize how wonderful it is that we are all not the same. 
    Unfortunately, I recognize that writing this post is not going to spare me from having ignorant people make comments about the dynamics of my family.  I also realize that it will not shield me from hearing stories about negative experiences that other biracial or multicultural families experience.  My hope is that it will help to raise some awareness about how these insensitive comments from others affect parents who are trying to raise children who are color blind.  After all, wouldn't we all benefit from a world where everyone was color blind?
© 2011, Tough Cookie Mommy. All rights reserved.