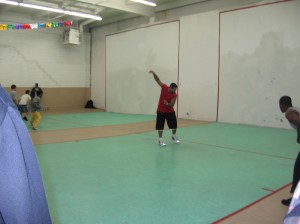 Hubby playing Handball, a popular sport in New York City.
    My husband is a sports addict. Those of you who are long time followers of my blog know that this is not the first time that I have mentioned this here. He doesn't like one sport, he loves all sports. No matter what season it is, you can always find him watching whatever sport is on television at the moment. He follows everything from football to tennis and drives me crazy while doing it. At any given time, you can enter my home and see ESPN turned on or any other sporting event.
    His love of sports doesn't just end there.  He also plays all kinds of sports, attends sporting events, and coaches two of my son's sports teams.  Now, I want to begin by saying that I understand the value of sports for their physical fitness benefits along with the fact that participating in them boosts self esteem.  I'm just sick and tired of watching it and hearing about it all the time.  Now that my boys are getting older, I get it in stereo because they all love sports and talk about it constantly.
    I'm not sure what it is that men love so much about sports.  Maybe it is the physical contact involved in it since they enjoy wrestling and horsing around by nature.  Perhaps it is all the running, hitting, and jumping.  Honestly, I don't understand what is so wonderful about all sports all the time.  I've never been much of a girlie girl in the traditional sense but this is ridiculous.  I need some Lifetime channel, Oprah, and the Food Network.  I would give anything not to hear the words penalty, fumble, touchdown, contract, or punt for at least one month.  There is definitely such a thing as too much of a good thing and we have passed that line in this house with regards to the sports quota.
    Football probably has to be the sport that offends me the most.  First of all, I cannot understand some of the rules to save my life.  Second of all, the games always seem to last forever.  Lastly, there are games constantly on which totally interferes with me getting time to watch some of the programs that I like.  I'm not ashamed to admit that I can't wait for the Super Bowl because if officially marks the end of the football season for me.  For some reason, I can tolerate some of the other sports like basketball and baseball a little more.  Maybe it is because I don't feel as brainwashed with those other two sports.
    You may feel like you cannot relate to this post because your husband or significant other does not love sports.  To you I say "one man's sports is another man's stamp collecting."  Sure, this is comparing apples to oranges but the core of the issue is still the same, men like to brainwash us women with the things that they love but they hate to spend time doing the things that we love to do.  Heaven forbid movies like Dirty Dancing or Grease are on television, you will see my husband change the channel faster than "Greased Lightning."  My brain can be fried 24/7 with sports but we can't watch a chick flick for two hours?  That's men for you.
    Now before you go feeling sorry for me, let me remind you that I have the best husband on the planet.  He is perfect in every other way but, at the end of the day, he is totally obsessed with sports.  I'll take that anyday over him being a womanizer, a gambler, or a drug addict.  Believe me, I've know women with those kinds of men problems and it was not pretty.  That is actually his defense when I complain about all the sports talk,  that because he doesn't do any of those other things I should be happy that he is just addicted to sports and that he is such a great guy.  I guess I must have missed that memo because I was too busy yelling, "FOUL!"
© 2011, Tough Cookie Mommy. All rights reserved.