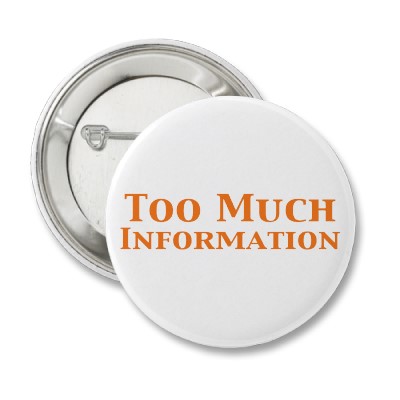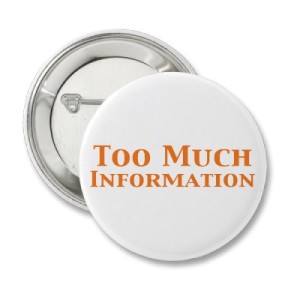 Am I the only one who is at a loss when other people share too much of their personal business that you didn't want to know?  That is precisely what happened to me last year with someone whom I used to work with.  A co-worker of mine, whom I am not particularly close to or even friends with, proceeded to tell me all about the problems that she was having with her significant other.
    I am not a big fan of spreading all of your personal life all over the place.   Additionally, I am very selective about the people that I share any information with that has to do with my personal business.   As far as my relationship is concerned, that is definitely something that I only discuss with a select group of friends that I have known for years and that I actually trust.  That said, there are still aspects of my relationship that I do not even discuss with my closest confidantes.  It's not that I do not trust them but, there are certain things that should just be kept between you and your significant other.
    I'm extremely interested in the reasons why some people have no discretion whatsoever when it comes to choosing who to share intimate details about their life with. Maybe it is a certain sense of narcissism that makes them feel like they are the center of the universe and that everyone else's life revolves around them and their experiences. On the other hand, maybe they really are that miserable and just need somebody to talk to.  I am a little more patient with those people who are motivated to share all of their business due to the latter.  That does not take away the fact that certain personal information should not be shared with others, particularly those people whom you are not close to, to begin with.
    I'm not exaggerating when I say that this person practically described her entire relationship, problems she was having with her boyfriend, and intimate details about her physical relationship with him.  My ears were almost bleeding from hearing all of this information that I definitely did not want to hear.  I'm almost positive that I gave off all of the cues to indicate that I was extremely uncomfortable with the conversation but I did not have the heart to be mean to her since she was going through a break-up and is looking for advice on the whole issue from everyone that she comes across.
    My husband always says that women are always doing that, talking about their relationships with men with other women.  He insists that this always causes problems in relationships because a woman's friends will instigate and make the situation worse by influencing her with their opinions.  Early on, we decided to be very discreet with others about the intimate details of our own personal relationship.  Although I would never admit it to Hubby, he is absolutely right, telling others about your relationship is bad business.  In this case, it was especially bad because I did not want to know anything personal about this woman at all.
    People like her are infectious.  I say this because they purge themselves of all their bad feelings and toxic emotions by telling you all of their problems.  After they have finished vomiting all of their drama on others, they experience a feeling of relief because they have vented about their issues.  Unfortunately, the same cannot be said about how you are feeling after the conversation because it is definitely not good.  I mean, why would you feel good about hearing all of this and about being part of such a negative conversation? 
    In order to assist others in avoiding being sucked into these kinds of situations and to assist would-be offenders with keeping their traps shut, I have come up with a list of "The Last 3 Things That People Want To Know About You" :
1)  Nobody wants to know what you do in your bedroom.
2)  Nobody wants to know what you do in your bathroom.
3)  Nobody wants to know how much money you have or how much money you spent.
    I think that if we all adhered to these three simple rules, we would all benefit from it.  This would definitely stop a lot of gossipping and it would help to reinforce the parameters of romantic relationships.  My advice is that, certain things you should just keep to your self.  Don't punish others by sharing what you already know is, "TOO MUCH INFORMATION!"
© 2010, Tough Cookie Mommy. All rights reserved.