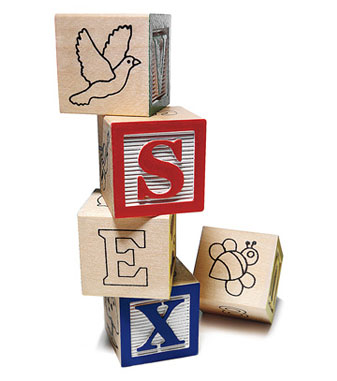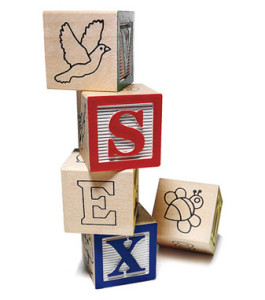 Tonight, I had the first ever conversation about sex with my seven year old son.  I'm not sure that you could even call it a conversation since it was mostly one sided with me doing most of the talking stuttering and blurting out some partly incoherent explanations.  You would think that I would know how to talk about sex with my own son.  After all, I have worked with hormonal teenagers for over the past ten years and am not really intimidated by anything at this point.  I can tell you, though, it is a totally different ballgame when you are talking to your own baby about such a serious topic.
    What prompted me to have this conversation with him, you ask?  The truth is that television these days throws the word "sex" around on practically every show.  Lately, I have noticed that even some our favorite sitcoms use the word from time to time.  It bothered me that he would hear the word often and possibly come to his own incorrect conclusions about its meaning.  Also, now don't judge me, I love to watch the show "16 and Pregnant" on MTV and he sometimes passes by the television while I am watching this show about teenagers facing the prospect of becoming parents.  More often than not, I will make a quick comment to him like, "The only thing you need to worry about is going to school and getting an education and not about girls."  He just looks at me and grimaces because he still thinks that "Girls are yucky."  However, I know better and I am aware that kids younger and younger are becoming sexually active these days.
    I discussed all of my concerns with Hubby and he told me that it is better for him to learn about these kinds of things from us first instead of learning the wrong things from his peers.  We have always agreed to be honest with our boys and to have open communication about all topics, no matter how uncomfortable they might be to discuss.  Both of our parents were very open with us about sex and we realize that it is important for children to be able to talk to their parents about anything and to know that no topic is considered taboo.  I'm sure that those of you who are more conservative disagree with this parenting philosophy but I hope you will respect my right to parent liberally just as I respect your right to parent conservatively.
    You all are probably on the edges of your seats eager with the anticipation of knowing exactly how my conversation with my son actually went down.  I won't make you wait any longer.  The following is a transcript of the "sex" talk that I had with my seven year old son:
Tough Cookie Mommy:  "Honey, I know that you have been hearing the word "Sex" here and there sometimes when we watch television…"
Tough Cookie Son:  "Mommy, I don't even know what that word means."
Tough Cookie Mommy:  "Well, sex is something that married people who love each other and are in their forties do together."
Tough Cookie Son:  "Huh?"
Tough Cookie Mommy:  "But you don't have to worry about that until after college because you are not allowed to have sex or have kids until after college."
Tough Cookie Son:  "Okay, Mommy…"
Tough Cookie Mommy:  "Oh, and by the way, you better not bring any pregnant girls home either."
Tough Cookie Son:  "Yes, Mommy."
Tough Cookie Mommy:  "All you have to do is go to school, study hard, and keep your "stuff" in your pants."
Tough Cookie Son:  "I know, Mommy.  You always tell me that when you are watching that show that you like…"
    That, Ladies and Gentlemen, is the extent of my first conversation about this topic with my son.  The entire time that I was talking to him he had a huge smile on his face.  I'm not sure if it's because he thinks I am crazy or because the topic makes him feel uncomfortable.  In any case, I think I did a great job without getting too graphic and keeping it age appropriate.  What do you guys think?
© 2010, Tough Cookie Mommy. All rights reserved.