I am here to report that I had a wonderful Thanksgiving with my family!  Everything went smoothly and there were no surprises.  That is, except for one huge surprise, my Mother In Law crashed Thanksgiving dinner.  Yes, I said crashed because she was definitely not invited.  There were a number of reasons for that including the fact that she lives out of state, that we haven't seen her in over a year, and that she hates me.  I'm not exaggerating, the woman really despises me.  It would stand to reason that she would go out of her way to avoid having to see me, however, she has always done everything within her power to be a troublemaker and to get on my nerves.
    Let me describe the scene to you, everyone was sitting down getting ready to eat the Thanksgiving meal together when my husband received a call from his sister that they were here in New York and they wanted to come over to the house.  I knew this was a recipe for disaster because of our history together but I knew that my husband had not seen his younger siblings in a long time so I agreed.  A short while passed before their arrival and in walked my Mother in Law, my two Sisters in Law, Hubby's Grandmother, and an elderly family friend.  This added up to a grand total of 5 people that I had not anticipated would be coming to eat. 
    True to her rude ways, my MIL refused to enter the livingroom and, instead, stood in the doorway of my house and proceeded to make the rest of my guests feel very uncomfortable.  I offered all of them a plate of food and they all refused since they had apparently gone to eat with friends before coming to my house.  This made my guests feel even more uncomfortable because they felt awkward eating while my MIL and her party watched them.  The tension got to be so thick that some of my family members took their plates to the kitchen to get away from the situation and enjoy their food.  
    The MIL then proceeded to take pictures of my children whom I had to coax to go over and take photos with their Grandmother because they hadn't seen her in years and had to be reminded of who she was as they did not recognize her.  This went on for a few hours until she promptly announced that she had to go because she was headed to visit yet another family member in another part of New York.  I'm pretty sure that my sigh of relief at her leaving was still audible by everyone despite my best efforts at stifling how happy I was to see her go.  Unfortunately, my joy was short lived because we received a phone call a couple of hours after her departure that would permanently put a damper on our evening…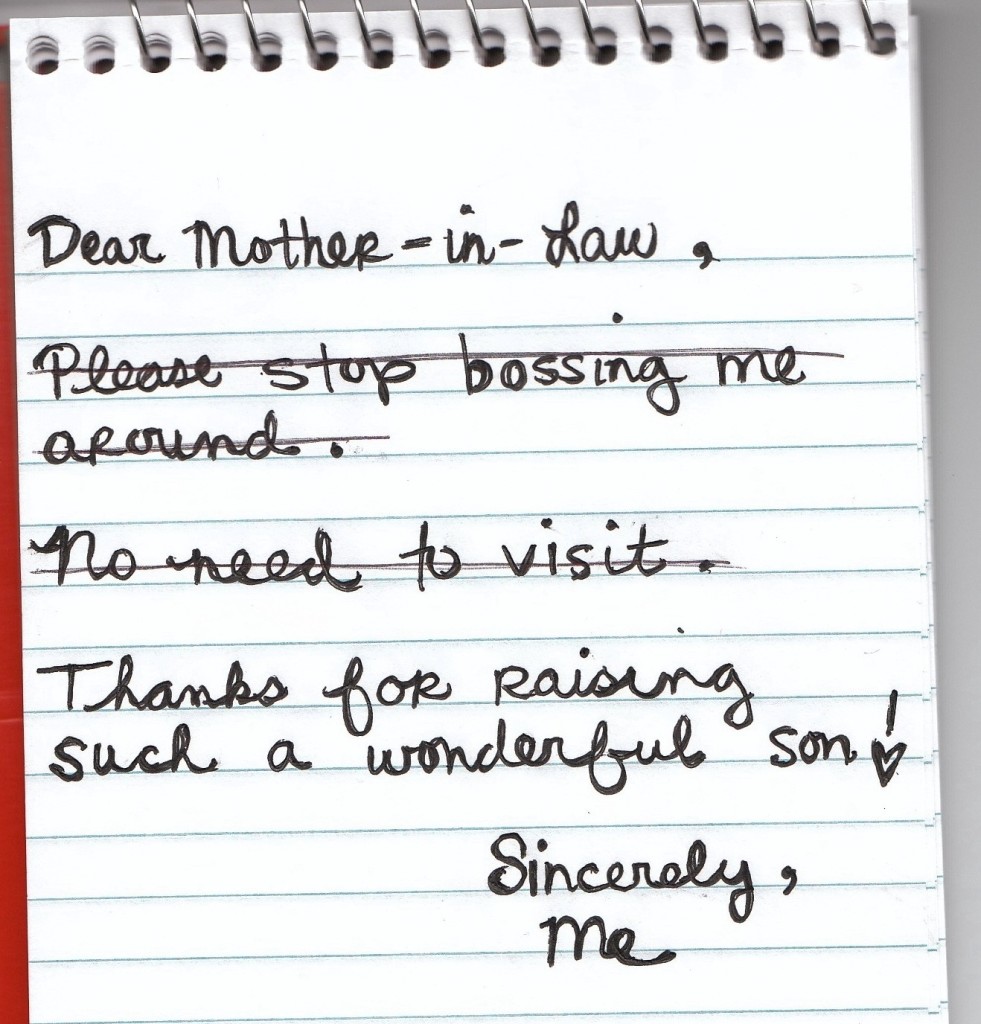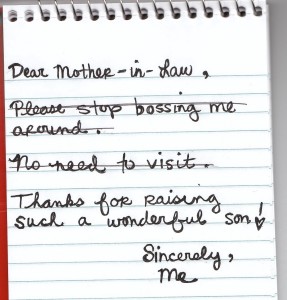 As it turns out, the MIL decided to drive to a famous bakery to get a cake before heading out to see the next family member.  Although this bakery makes some of the best cakes around, it is located in a seedy part of town where there are a lot of industrial buildings.  It is in this neighborhood where my MIL's car stalled in the dark on Thanksgiving evening.  Instead of calling us right away to tell us that she was stranded, she called a friend and sat in the car waiting for him to come rescue her for two hours.  I must be a glutton for punishment because I knew that they had been having car trouble earlier in the day because she had commented on it at my house so something told me to have Hubby call to find out if they had arrived at their destination.  This is when we found out that they were stranded in the car.
    I packed up the car with the kids and drove my husband over to where they were to give them a boost.  My husband had a couple of drinks that evening so I did not want him driving.  As soon as we got there, I ushered the two elderly ladies and Hubby's teenage sisters into my car so that they could warm up under the heater.  They were practically frost bitten and I had to drive them to a Laundromat nearby so they could use the bathroom after sitting in the cold car for the past two hours.  This is the part of the story where things got a little hairy.  You see, my MIL did not want to come back and stay in my house because she knows how she has treated me in the past.  That was her guilty conscience because I had every intention of inviting all of them back to my house to spend the night but she insisted that she was going to stand in front of her friend's building until he and his wife came back and let them stay over.
    At this point, I had had enough so I told her that I didn't care if she didn't like me but we were driving back to my house because my children were not going to sit in a car on Thanksgiving night while she waited for her friend.  She finally gave in and we brought all of them back to the house where I fixed everyone some tea.  She just sat in a chair in the corner of my livingroom waiting to receive the phone call from her friends telling her that they had finally gotten home.  I was courteous and hospitable throughout this whole fiasco and I am really proud of myself.  Despite her best efforts to ruin our Thanksgiving holiday, she did not succeed.  The better part of my day was spent with my loved ones and I had a great time. 
    I must have done a good job as a hostess because my 12 year old Sister in Law told me that she was glad that I married her brother because I'm a great person.  She seemed surprised when she told me this and I asked her why she was so surprised that I was so great.  Her response was, "Well, you know Mom doesn't like you because she says you are, how should I say?  She says you are bad…"  I guess I can't be that bad if I drove, in the rain to rescue this woman despite the fact that she has never treated me with any respect or consideration.  I must not be that bad if I still welcome her into my home and I still acknowledge her existence.  What do you guys think?
© 2010, Tough Cookie Mommy. All rights reserved.