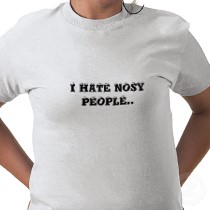 I have really nosy neighbors.  Those of you who have been loyal followers of this blog from the beginning know that I have blogged about many of the issues that I have had with them.  Although they are all generally busybodies, there is one specific neighbor who is really barking up the wrong tree.  Last year, he did something that really upset me and inconvenienced me and, since then, he has done everything within his power to do a tap dance on my last nerve.  The icing on the cake has been that I just recently found out that he has been talking about my husband and I to some of the other neighbors.  It is taking all of my patience to keep me from going over to his house and stepping on his garden.  Sure, I know that is immature but, once you hear what I have had to put up with from him, you might be more inclined to agree with me…
    This whole thing started last year during the summertime.  I order medication through the mail that I have to take on a daily basis.  Due to the fact that it is very expensive medication, I always request that the UPS guy require a signature from me in order to deliver the package.  This is to make sure that he doesn't just dump my package in my front yard while I'm at work so that anyone who walks by can just pick it up.  Anyway, on this particular day, I was rushing out of the house with the boys to go to the beach so I never heard him knocking on the door with my box.  By the time I went outside with the kids, he had already left and he posted one of those "we came and you weren't home" notices on my front door.
    Since I was rushing, I just figured that they would take my package back to the UPS warehouse at the end of the day and that I would send my husband to go pick up my package.  This is a common occurrence because they often deliver things while we are out and we have had to bring the slip to the warehouse numerous times before to retrieve our items.  Unbeknownst to me, my dear neighbor, who we shall call "Mr. E" had run out of his house when he saw the UPS guy getting back in his truck and volunteered to sign for my package to to deliver it to me personally.  Despite the fact that it was against company policy to do so, the UPS guy allowed my neighbor, whom I barely know to sign for my package.  A small note was made on the bottom of the delivery slip stating that the package was in my neighbor's house and that I could pick it up there.  I finally realized this in the evening when I noticed the chicken scratch handwriting at the bottom of the paper for the first time.
    This is where the story gets really good…By the time Hubby and I realized that Mr. E had my medication, it was early evening.  We both proceeded to knock on his door and ring his bell to no avail because it was pretty obvious that nobody was home.  The next day, and the next, we kept knocking on his front door and asking the neighbors if they had any idea where he and his wife were.  Finally, somebody commented to us that they went to see their daughter Upstate and that they usually stayed for a couple of weeks.  This information made me see red!  I could not believe that he had the audacity to sign for my package and to put it away in his house without contacting me and politely flit off to see his daughter with no regard for the fact that he had not given it to me.
    He and his wife ended up returning almost a week and a half later.  During that time, I had to go through the aggravation of calling the mail order pharmacy and recanting this ridiculous story in order for them to ship me a replacement package.  Also, I had to file a complaint with UPS in order to make sure that their delivery person would never allow others to sign for my very importand deliveries.  This was all besides the anxiety of knowing that might miss a dose of my very important medication.  He and his wife came back and nonchalantly returned my package which, of course, had to be mailed back to the pharmacy because it sat in 90 degree weather in his house while he was out carousing.  You see, the medication spoils if it is not stored within a certain temperature.  His defense was that he had knocked on my door ONCE to give me the package before they left on their vacation and, since nobody was home, he just figured he would give it to me when he got back.  Unfortunately, my husband had just about had it at that point so he told him to stop being a nosy old mad and to never sign for any of our mail or our packages again.
    Fast forward to the present…My new neighbor, who just moved in next door about a year ago is around my age and we shoot the breeze in front of the house from time to time.  She commented to me recently that Mr. E had told her and her husband to watch out for us because he had tried to be "neighborly" last year by signing for my package and that we had gotten all upset and made a big production out of it.  I was livid!  Talk about having gall!  So now he is the victim because he signed for my $4000 medication even though nobody asked him to?  Is he also a victim because he chose to leave the package in his house while he went off on vacation and did not concern himself over whether the contents of the box were valuable or perishable or that I might be in urgent need of what was inside?  I've just about had it with him and his phony "concerned neighbor" routine.  I think I may have to go over there and accidentally stomp on his Begonias…
© 2010, Tough Cookie Mommy. All rights reserved.