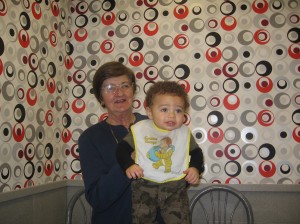 My Grandmother and my youngest son at his first birthday party in 2007.  
     This evening, I received some bad news.  I found out that my Grandmother is very ill.  Aside from the obvious reasons why this would be upsetting, it is even more difficult to deal with this because she is so far away from me.  You see, she lives in Spain which is really a world away right now.  In these times, most would probably say that traveling from one continent to another is a breeze due to the advances that we have made with technology in the area of travel.  This information does nothing to fill the void that one feels when a loved one is ill and so far away from them.
    My Grandmother has always understood the family ramifications that come with the territory of travelling around the world.  She and my Grandfather have travelled extensively throughout their lives and have actually lived and worked in Europe, South America, and the United States.  That is actually how my father met my mother, here in the U.S.  Although my parents opted to live in Spain for many years, they ultimately made the decision to bring my siblings and I to live in America where they felt that we would have more opportunities.  I can still recall the evening that my parents broke the news to my grandparents that they were moving back to the States, it was painfully obvious how devastated they were.
    Despite their sadness over the fact that we moved across the world from them, my grandparents have maintained close ties to us and we all travelled back and forth regularly, over the years, to spend time with one another.  My Grandmother even likes to say that she is at fault for all of this because she and my Grandfather created this culture of travelling and exposed their children to new and exciting places.  She says it was inevitable that she would pay the price for this by being separated from her children, her grandchildren, and now, her great grandchildren.  Between my two siblings and I, we have made her a Great Grandmother seven times over to seven beautiful boys.
    Now that I am a mother, I understand all too well the pain that she has felt all of these years due to us living so far away from each other.  It really makes me think about my own sons and the unconditional love that I have for them.  As a parent, I have to be prepared for the fact that, one day, they will leave me to venture out into the world on their own.  This is a natural event that all mothers are realistic about and try to brace themselves for over the years.  If I am lucky, they will choose to make their lives not too far away from me so that I may continue to share in their lives.  Unfortunately, life sometimes takes us down unexpected paths and this is also true for our children.
    Although, I anticipate sadly the day my boys leave the nest, I will carry on the legacy and strength of my Grandmother who has taught me that a mother's love knows no boundaries, including those caused by distance apart.  She has loved me over the years from another continent and never made me feel guilty about the fact that my happiness in my own life was at her expense since she suffered daily due to not being around us regularly.  This kind of love and strength is passed down from generation to generation.  I only hope that I can be half the woman and half the mother/grandmother that she has been to my own sons and my own grandchildren.
© 2010, Tough Cookie Mommy. All rights reserved.