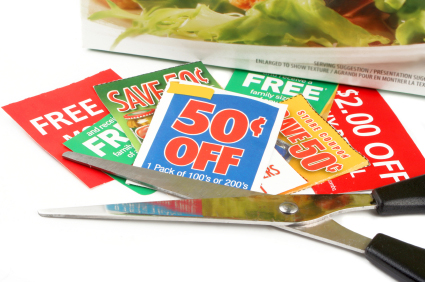 Last week, I wrote a blog post about my desire to learn the ins and outs of couponing in order to reduce my monthly grocery bill.  You can read all about my couponing concerns here, The Secrets of the Coupon Sisterhood. As promised, I have compiled a list of couponing do's and don'ts from some of my readers who are experts in the fine art of frugal grocery shopping.  I am very excited to share their advice with you and I hope that it helps to reduce your expensive grocery bills, especially in these trying economic times…  Please note that you can find their blogs and learn more couponing tips from them by clicking on their names and visiting them.  So, without further ado, I give you:
COUPONING 101
1.  Maree says:
    One way I know we save in the grocery area is when I plan our week's meals BEFORE I go grocery shopping. When I know my week's meal plan I seem to be so much more organized with the things I purchase and don't overstock or buy "extras". It also means I am organized and can work on meals that use similar items but aren't necessarily repeats. It makes me more aware of what is in the pantry, what we have plenty of, etc. I don't troll for coupons but I do keep my ears open for extra special deals…
2.   Daria says:
I am new to the coupon arena as well and do spend about 2 hours a week clipping coupons, tracking down deals, etc. We spend around $400/mo now on a family of 5, not as good as some, but still pretty frugal in my opinion.
I don't do the meal planning thing though. I just make meals with what I have. If I thaw chicken then I figure out a recipe to use chicken. Sometimes that means I pick up a red pepper or a head of broccoli on my way home from work, but that's ok with me. It has really cut down on the wasted produce expense we had previously.
3.    QponCutie says:
The key is to use your coupon when the item is at its very lowest price, and buy as many as you will use in a 3-month period. Then when you run out of say, ketchup, you know you have some stored away, and you don't have to run out and pay full price for it!
The sales cycles average about 3 months, so you will have an idea of when the item will be at a rock-bottom price again…
4.   Andrea @ Savings Lifestyle says:
Here are a few things I would suggest as you get started:
Make a list of the frequently purchased items. It helps to have all the stuff listed out. For food, possibly look at what your kids enjoy eating the most of.
Find a blog that covers the stores you shop primarily. If you shop at Kroger, there are a ton of sites (like mine that lists every single sale and tells you exactly which coupons to use to take advantage of that sale price to the fullest.)
Don't go all crazy extreme with the coupons. That will make you just stop, honestly. Focus on understanding the rules and policies for that store. For example, does the store double your coupons? Do you need a loyalty card to get the price on the shelf? Those things are so important to understand and obviously impact your savings. For me, not doubling means I just don't buy it now.
5.   lynn @ Maven of Savin says:  
BABY STEPS! I recommend starting with one grocery store and one drugstore. Then find a frugal blogger that does the coupon match-ups. WE DO IT FOR YOU. We even tell you where to get the coupons. I honestly only clip when I need them – I just hang onto the inserts until then. So I spend probably and hour to clip and plan my trip from the already prepared coupon match-up. Occasionally I will store hop, BUT ONLY FOR A ROCKIN' deal.
6.   BLR Graham says:
It would be great to sign up for your local grocery store's weekly offer to decide what bargains they have for you in their store. Plan your meals based on what they bargained for. I bet you can also find other discount products they offer for household and/or personal use.
7.   Diane says:
I won't shop without coupons. I don't do the whole meal planning thing, I use what I have. I have been able to create a stockpile from saving money. Now, I just buy what is on sale AND match a coupon to it. I have managed to get a lot of items for free or just a few cents. The trick is having the stockpile, so you don't have to buy items at full price. Then there are all those samples! I don't think I will ever need to buy shampoo or lotion again!
8.   Jill says:  
The two most common myths about couponing are:
1. Coupons are for junk food and
2. It takes HOURS.
#1: Find a blog in your area that does the work for you. Go to http://www.becentsable.net/store-deals/ Scroll down to the grocery deals by state and find one that works for you.
#2: Find a way to organize your coupons that works best for you! If you find a blog that gives you the source of the coupon (i.e. online, or which newspaper insert) you don't have to cut every single coupon you MIGHT use.
#3: Stockpile. Buy items when they are on sale AND you have a coupon. If spaghetti sauce is on sale for $1.00 and you have a $1.00 coupon it's free. Buy it even if you don't plan on having spaghetti. Even if you hate spaghetti, buy it and donate.
#4: Ask the successful couponers for help. I think you will find that we love sharing the knowledge.
© 2010, Tough Cookie Mommy. All rights reserved.