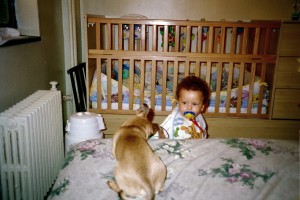 Lately I have been thinking more and more about the possibility of bringing a pet into the house.  I have weighed all of the pros and cons and have decided that everything points to the fact that it is time to adopt a dog.  Unfortunately, my better half disagrees and he has put his foot down and stated that we will not be getting any pets anytime soon.  Now, normally, when hubby puts his foot down I just smile and do the complete opposite of whatever it is that he has forbidden from doing.  This time is a little bit different because, although I think he is being somewhat unreasonable, he does raise some good points as to why he does not want to have a pet in our home.
    You see, this is not our first experience with owning pets and I have been known to take in strays should the need arise.  I have to admit that my love of animals has gotten us into more hairy predicaments than I would care to admit. (No pun intended)  However, in all fairness to me, not all of the pet dilemmas that we have had were my fault and I blame hubby for the biggest pet fail that we have ever experienced since he is the one that bought Nicky home.  Come to think of it, the whole "Nicky Fiasco" was really his fault and I don't think that it is fair for him to prevent the boys and I from having a dog just because he picked a psychotic Chihuahua that ultimately nearly drove him crazy.
    It all began about eleven years ago when, much like recently, I expressed to hubby the desire to get a dog.  He broached this subject with his Aunt who told us that she knew a lady who bred pedigree Chihuahuas and that she would introduce us to her so we could choose one of her dogs.  Hubby acted like he wasn't really interested so that I wouldn't know that he was secretly making plans to surprise me with my new puppy.  He made all of the arrangements with her and chose one of the puppies that the breeder showed to him.  One afternoon, as he was picking me up from work, he surprised me with the cutest and tiniest Chihuahua puppy that I had ever seen and I was immediately in love.  I named him Nicky and he became practically like my child.
    Nicky was cute and loving albeit a little crazy.  He constantly barked at every little noise and he hated being alone and would scratch at the front door whenever we left for work or when we went out.  This annoyed Hubby to no end but it really didn't bother me because he was my baby and I loved to spoil him.  I had never had a pet of my own so I lavished this dog with my love and affection.  He slept with me, sat next to me on the couch when I was watching television, and always followed me around the house.  We were buddies and I considered him to be the best possible pet ever.  Regardless of his idiosyncracies, he was my puppy and he could do no wrong in my eyes.
    Unfortunately, this all began to change with the birth of my first child.  By the time my oldest son was born, Nicky and I had been together for four years.  He was used to having my undivided attention and not used to having children in the house, especially a crying baby who demanded and took up all of my time.  I noticed that Nicky began to become increasingly agitated and that, as my son got older and started walking, the dog would get annoyed with him and snap at him sometimes when he became impatient.  Although I always corrected the dog when he did that, I never considered my son to be in any danger nor did he ever bite him or really hurt him.
    By the time my youngest son was born, it was quite obvious that Nicky was not the same dog that he had been years ago when it was just him and I.  I had done everything to decrease his anxiety and jealousy at having to share my attention with my sons.  My husband brought baby blankets from the hospital to prepare Nicky for the babies' scents and we were very patient as he sniffed the new babies and curiously examined both of them.  We knew all of this kind of behavior was normal and we expected it.  What we did not expect was some of the bizarre behavior that Nicky began to engage in during the weeks following the birth of my younger son…
    The nips that used to be warnings to my older son to not bother him turned to full blown attempts to bite him.  My husband also discovered that the dog was taking items such as keys, gum, loose change, and receipts and hiding them around the house.  Then, we discovered the unthinkable, the dog was taking the baby's soiled diapers out of the garbage can and hiding them behind the entertainment center.  Needless to say, this was extremely gross and disturbing.  All of this was in addition to his constant barking, jumping all over the furniture, and destroying just about anything in the house. 
    It all just got to be too much and we had to make a decision about whether the dog could continue being a member of our family.  In the end, concerns about the safety of the kids as well as the destructive behavior caused us to give Nicky away.  It was one of the hardest things that I have ever had to do.  We had to tell my older son that the dog ran away because there was no way to explain to him why we had made this decision.  He was too young to understand and I was just too sad to explain it to him.  It was just one of those tough decisions that had to be made so we made it.  I often wonder whether the dog felt that I had betrayed him after all of the companionship that he had given me before the kids were born.  Those of you who are animal lovers probably understand why I feel this way.  The rest of you, well just bear with me…
    Four years have passed since we had a pet in this house.  Believe me, I understand why Hubby doesn't want to go down this road again but I can't help feeling that we are depriving the boys of having this experience.  They will learn responsibility from caring for a pet and they will also learn how to care for animals and to be gentle towards them.  I'm torn right now.  Do I let Hubby have his way and drop this subject or do I throw caution to the wind and get a dog?
© 2010, Tough Cookie Mommy. All rights reserved.